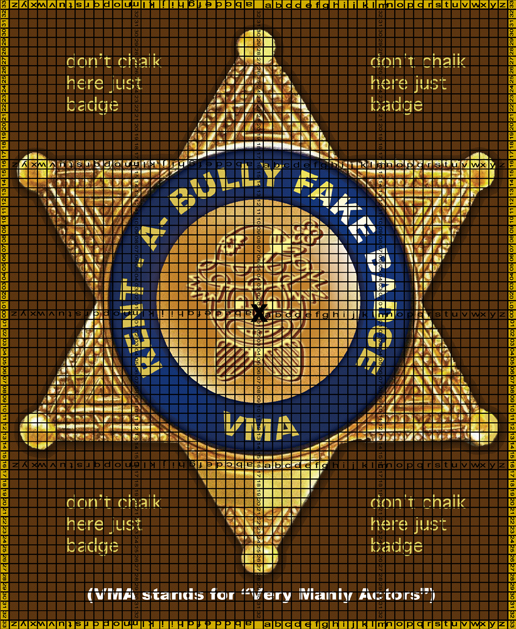 The image was a badge with a clown face in the middle. The text was "Rent a Bully Fake Badge." The city of Oakland hired Vince Mackey Associates to "guard" the downtown plaza. Mackey had been former Mayor Ron Delum's personal bodyguard and owned a local Guard business. (His online video add not-so-subtly suggests discretion for rich guy prostitute parties among other features.)
The guards, some of whom were black, were nevertheless harassing black people for smoking pot. When some white people friends and I showed up they decided not to harass us which seemed racist and unfair so we decided to chalk them. At first I was going to re-brand them as downtown clowns but then we decided to do the badge instead.
It was really detailed but luckily some really talented people showed up from nowhere and did an incredible job on the detailed points.
We never got their names or saw them again. We waited until the very end to put the letters VMA for Vince Mackey Associates on the badge, thus identifying our target. People started inventing alternative meanings for VMA like: Very Manly Actors and Vaginal Menstruation Alliance, Vince's Meanie Army, Very Messy Attitude, Virtual Male Alternatives, Villains Merit Acrimony and Varnish My Ass.

Vince Mackey himself showed up in his tricked-out Escalade and he and his white second-in-command lady were about as furious as anybody ever was, although some of the guards were actually chuckling behind his back. He singled me out as the leader and started yelling at me: "I am a BLACK man, hiring BLACK people…" but he was immediately surrounded by the black people his black people had been harassing in the first place yelling: "Yo BITCH! That's my Momma you talkin' about BITCH!" "These are PEACE OFFICERS!" yelled Mackey and Teardrop yelled back "Yeah, a piece of a officer!"
All of a sudden, an anti-bullying protest showed up with their signs and posed with our chalk.