This was the Obama "O" logo with drones surrounding or "emanating" from it. Tag line: Game of Drones. Drones usher out the era of heroism. This Chalkupy was in response to Obama's joke about who to kill next. Mixing the metaphor with the popular TV show: Game of Thrones, I juxtaposed drones that were reminiscent of the swords that formed the iconic Game of Thrones throne and arranged them in the same circular fashion around the Obama campaign "O."

One of the city workers whose job it was to wash the square every Monday left it up an extra day until Tuesday because he liked it and wanted to show his wife. I was worried that dissing Obama would make me unpopular in downtown Oakland. Not so. People's clear disappointment in their elected leader came through in their enthusiasm for the image.
There were 2 incidents of Chalk-gone-bad on this particular day. We had another drunk "roller-around-chalksmearer" who we finally distracted with pizza. In cases like that, a wet rag is indispensable. Later we had a toddler who put the turquoise in her mouth. Luckily Eternity Chalk is non-toxic but her parents were angry at me. I personally thought they could supervise their own child better. Be that as it may, later that night her mother was shot by a stray bullet. I don't think she died.

Most people however, are really helpful, knowing their abilities and keeping to what they can do well, whether it be details, lettering, filling in, supervising pizza fairness, clean-up, security and teaching other chalkers and talking to passers by about issues.
Days later it had tire tracks all over it. We think it was the cops but we don't know if they did it because they were angry or for some other reason.
Re: originality, there are currently 7.3 billion people in the world so it's kind of hard to be original. Someone else thought of Chalkupy before me but they didn't do much with it. Somebody thought of "Game of Drones" before me too. Much of the controversy around Obama and drones harks back to an alleged statement he made to his aides that he was "really good at killing people."
I always check now. I Google-Image the basic idea or tag line to see what images might already be associated in people's heads. It's the fi rst thing I do in every project. Unless we are doing it for our own self aggrandizement, it doesn't matter. A good meme should get all the boost it can get. If you do it better than the person who thought of it, they will be mad. Oh well. I like this one: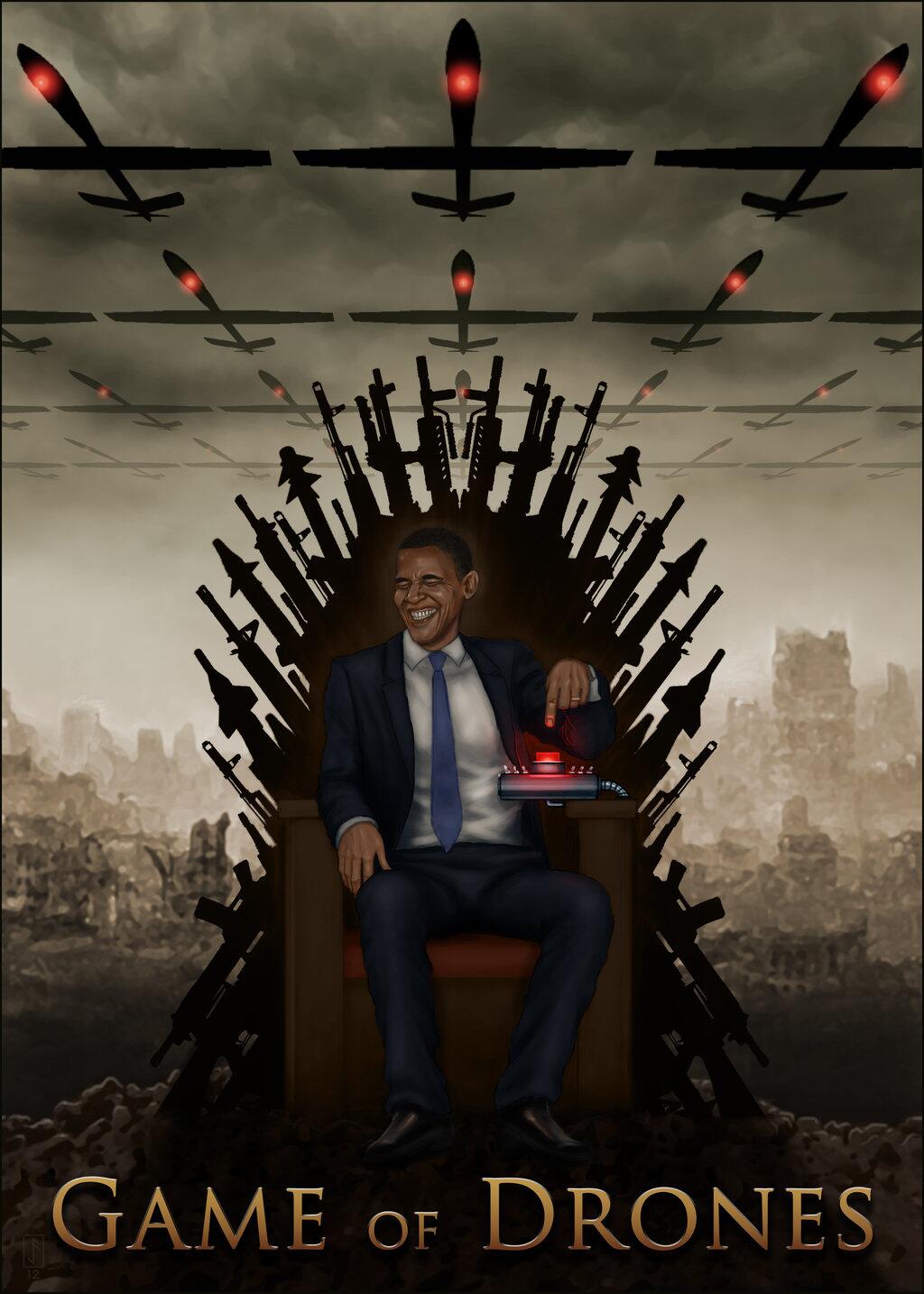 Game of Drones" penciled, inked, and colored by Jason Farmer