The image was four doors, one a closed library, one a closed school, one a closed shelter and the fourth an open jail cell.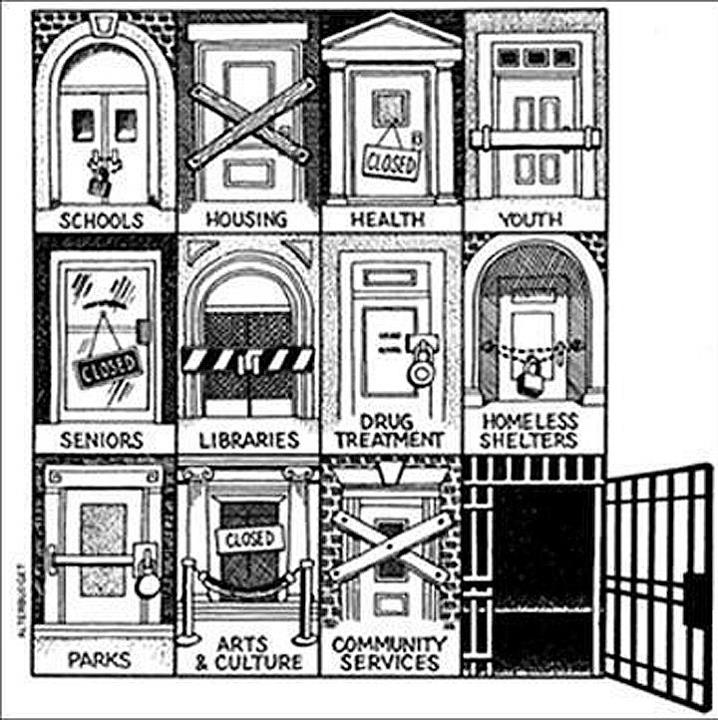 This was a piece of art my cousin posted online that I altered for our chalk.
The tag line was: Save Lakeview. School Board's Jody London moves to close small, local schools and bus local kids out to new, mega-school miles away. Parents are furious. They occupy Lakeview school and start their own, free school there. The police took over the school a few weeks later and Jody London spent tens of thousands on office dividers for the newly converted building. Inspired by one of the many, politically witty sketches that my cousin, Sarah Longstaff, posts to Facebook, I adapted one for this occasion. Schools, libraries and shelters are closing doors. Only the prisons remain open. Even though almost every line was along the edge of a paver, the complexity of this design made it harder than I had expected.
A Lakeview student pitches in
When we arrived at the protest, there was a crowd that stood respectfully not standing on the artwork even though it was between them and the speakers. That was never a requirement. People would walk and even ride bikes over the chalk even while we were doing it. But it was an amazing feeling that day to see the respect.
In the end, we lost. Jody London was re-elected.